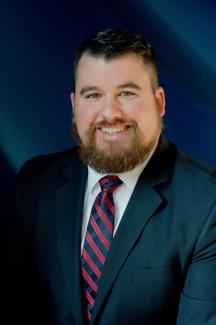 We are excited to announce that our team is growing! Ryan Hamrick has joined Tennessee Valley Investment Advisors as an LPL Financial Advisor serving TVFCU members throughout North Georgia.
Ryan started his career with Merrill Lynch and most recently was a Private Banker with Wells Fargo in Fort Oglethorpe. Ryan graduated from Dalton State and served in the Marine Core Reserves.
Ryan is available to help TVFCU members with their wealth management needs. He can consult with you on financial planning, tax-efficient investing strategies and retirement income planning. Given this year's market volatility and interest rate changes, it is an important time to review your portfolios. Ryan is available for a second opinion whether you already work with a trusted advisor or prefer to manage investments on your own.
Ryan is a North Georgia native and new dad. His wife, Esther and bloodhound, Buddy are kind enough to share him with us.
Tennessee Valley Investment Advisors has been a resource available to TVFCU members since 1999. Ryan joins an established team including Jeff Hatton, Debbie Morrison, Pamela Rivers and Kristie Stevenson. He will regularly be available by appointment at the following TVFCU branches; Chickamauga, Fort Oglethorpe and Ringgold. Please call 423.634.5212 to set a consultation.