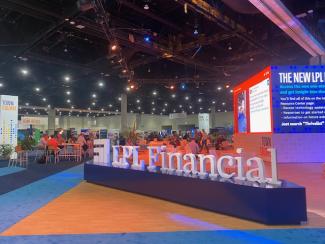 LPL's Annual FOCUS Conference Recap
LPL recently hosted their annual FOCUS conference. Along with 8,000 financial advisors, I traveled to San Diego for a weekend of education on a wide range of investment and service topics related to your experience with LPL Financial. Here are some highlights.
Fraud Prevention and AI
LPL's Executives are laser focused on compliance and protection. Seminars covered the following topics:
New threats due to artificial intelligence and how as financial advisors, we can stay diligent to ensure we are protecting our clients' assets.

Ensuring that clients' assets are handled properly after death and before passing to beneficiaries.

The importance of adding a trusted contact to your accounts as issues related to dementia are on the rise.

Improvements to quickly alert us if clients have any errors with birthdate, address and SSN.
On-line user experience
LPL is investing in your online experience in the following ways:
Customization of statements. LPL clients can now choose is they'd like to receive statements quarterly or monthly.

Making improvements to Account View's self-service tools, so you can initiate transferring funds between accounts and upload checks from home.

Providing more LPL market research and market news to you via your online portal.
Trends 
While we heard from experts from many different financial backgrounds, a few trends stood out:
An aging population: Currently 1 in 6 Americans are 65 or older and by 2040, 1 in 5 Americans will be 65 or older. This will put an even larger focus on retirement income planning, financial exploitation prevention and estate planning.

Stress is playing a bigger and bigger role in American life and young adults are reporting feeling "completely overwhelmed" by financial stress. As financial advisors, we can play a key role in minimizing the unknowns, increase understanding of financial concepts and help provide realistic pathways to reach goals.

The continued importance of putting the Best Interest rule into practice was a consistent theme. Regulation BI's obligation to act in the customer's best interest is satisfied by complying with four components of the rule: disclosure, care, conflict of interest and compliance. With the ever-expanding amount of financial products available, it is our job to ensure that we are presenting you with solutions that are in your best interest.
It is difficult to summarize such a great experience like the FOCUS conference into a blog post. I'm always happy to share investment trends, best practices and financial planning ideas. Please don't hesitate to reach out to our team at 423.634.5212 to meet with a LPL Financial Advisor at a convenient TVFCU branch.